Special offers
Make the most of your stay at Selman Marrakech by discovering our exclusive offers.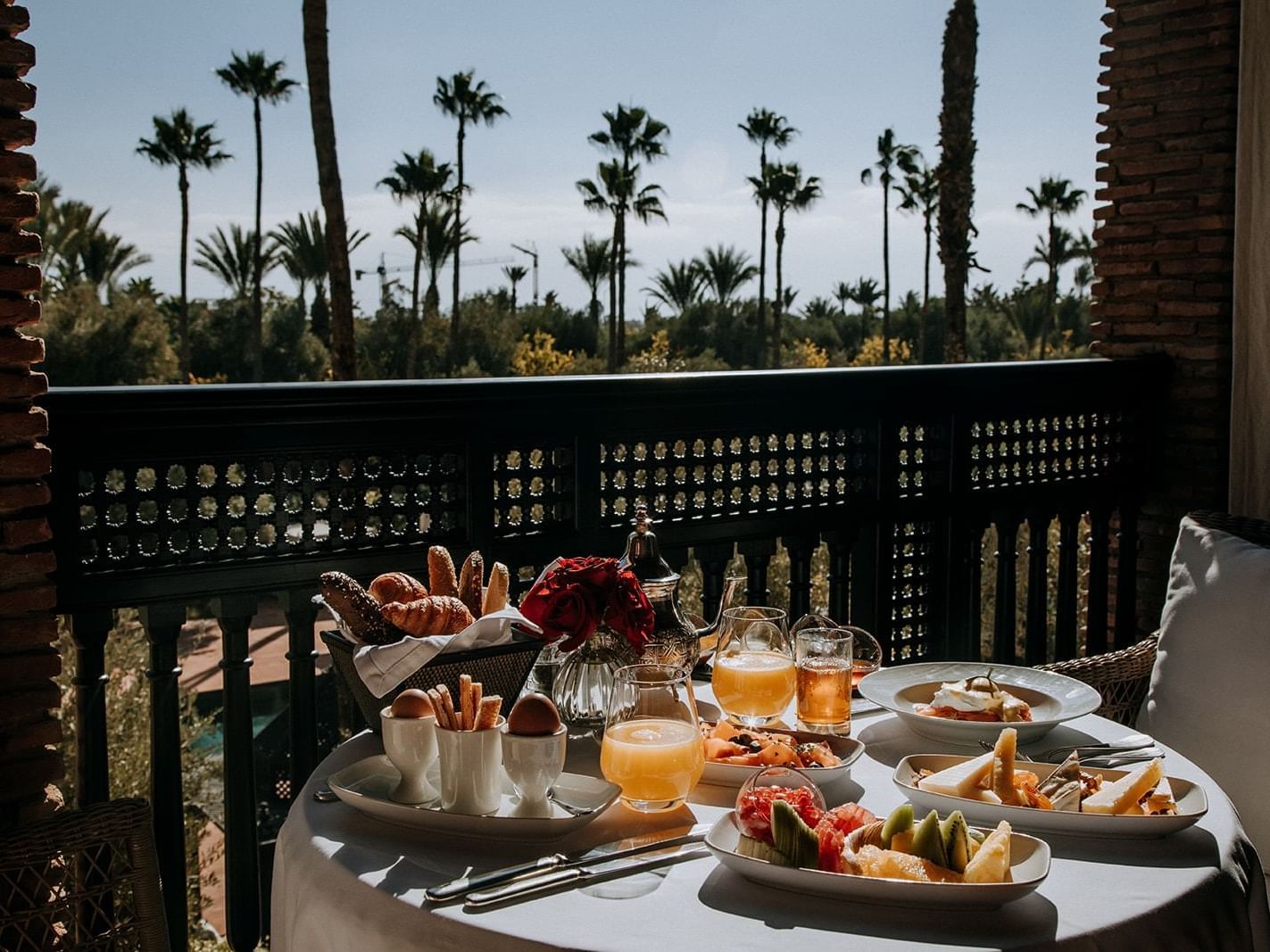 Sunny Escape
CONTINUE TO CELEBRATE THE SUNSHINE DAYS OF SUMMER AT SELMAN MARRAKECH AND ENJOY EXCLUSIVE BENEFITS:
UPGRADE AT ARRIVAL UPON AVAILABILITY
BREAKFAST AT THE RESTAURANT OR IN YOUR ROOM
500 MAD CREDIT TO BE USED AT THE SPA OR RESTAURANT
FREE STAY FOR CHILDREN UNDER 12 YEARS OLD
Offer valid until September 31st, 2022, subject to availability
FROM 6000 MAD PER NIGHT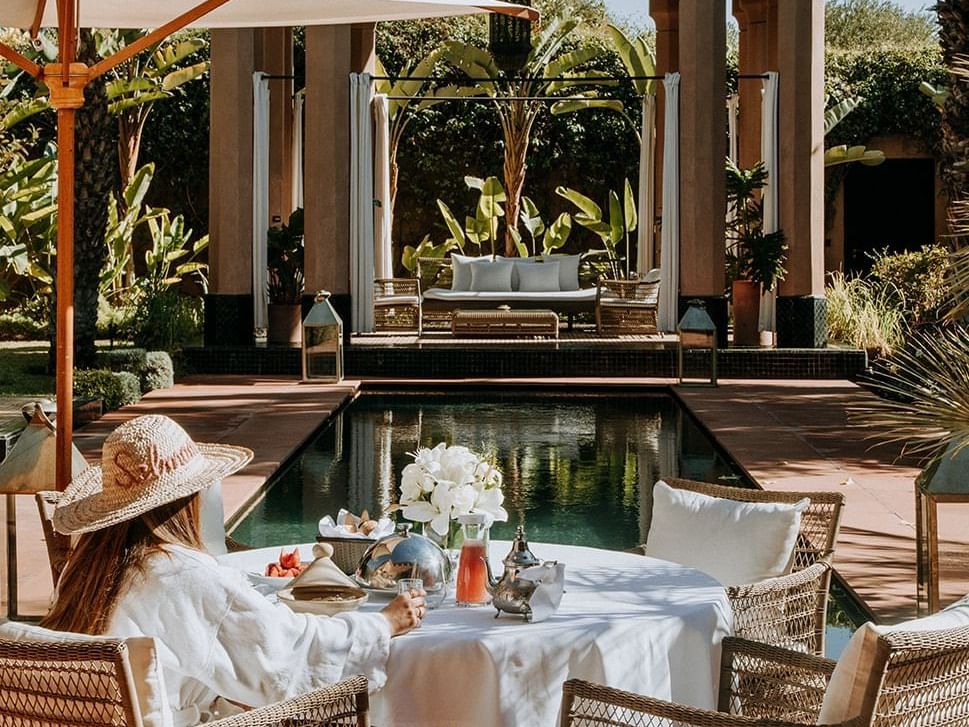 Villa Signature
DISCOVER OUR SIGNATURE VILLA, A VOLUPTUOUS AND UNIQUE JEWEL.
BOOK TWO NIGHTS AND GET 50% OFF OF THE THIRD NIGHT AS WELL AS SEVERAL EXCLUSIVE ADVANTAGES:
VIP WELCOME
TRANSFER FROM/TO MARRAKECH MENARA AIRPORT
BUTLER SERVICE
BREAKFAST SERVED IN THE PRIVACY OF YOUR VILLA
20 % OFF ON CHENOT TREATMENTS
GUIDED TOUR OF THE HARAS INCLUDING A GLASS OF CHAMPAGNE FOR TWO PEOPLE
Offer valid until September 31st, 2022, upon availability
FROM 15 000 MAD PER NIGHT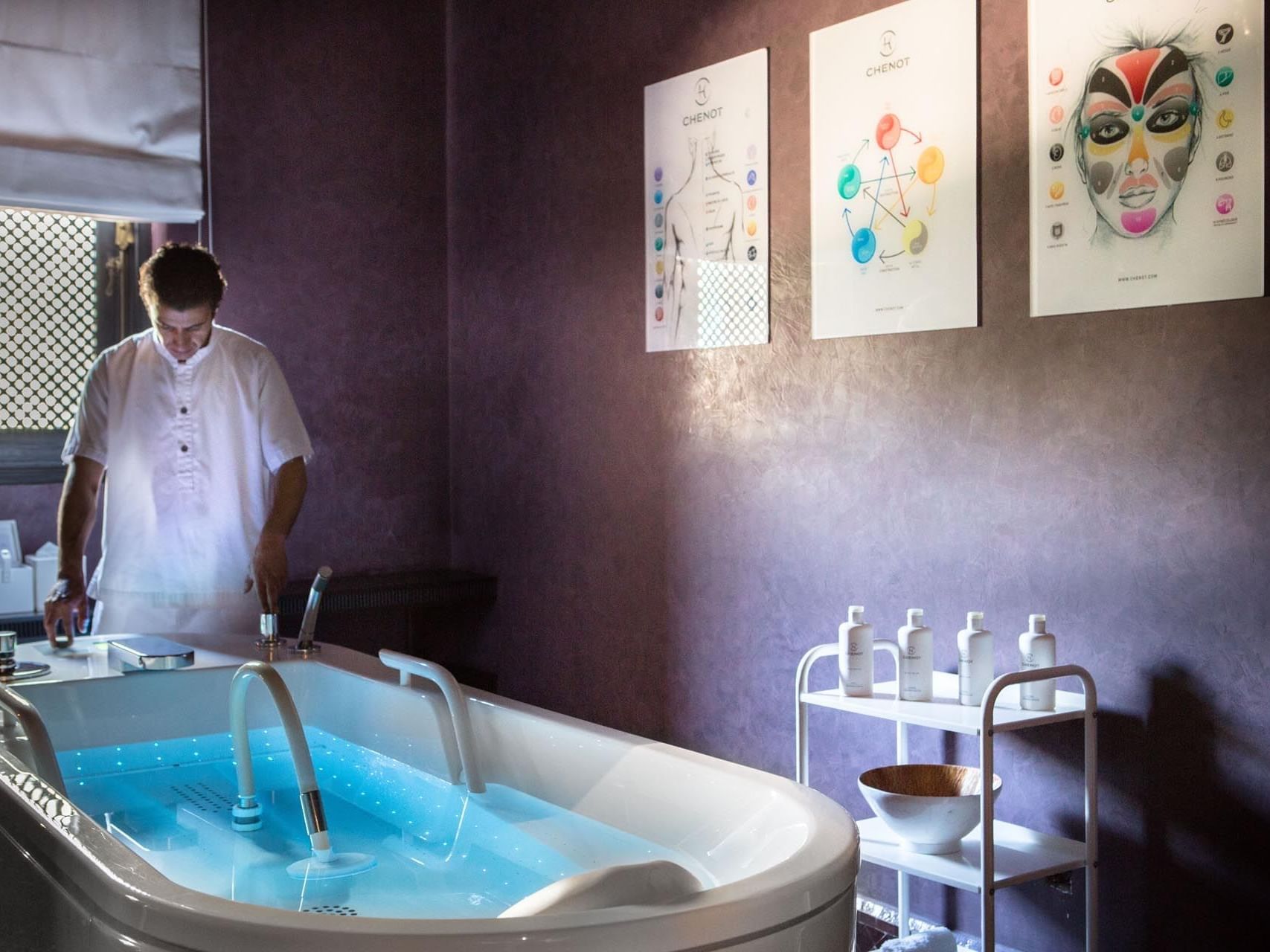 Chenot Spa discovery
INITIATE YOURSELF TO THE SECRETS OF APPEASEMENT, SERENITY AND WELL-BEING:
A HYDROTHERAPY CIRCUIT (BATHTUB, SEAWEED WRAP AND HYDROJET)
55 MINUTES DETOX MASSAGE
DIAGNOSIS AFTER VISUALIZATION
DISCOVERY SESSION WITH OUR HIGH-TECH MACHINES (LAPEX, CAVITATION, RADIOFREQUENCY, PEELING, LED LAZER)
ACCESS TO ALL SPA FACILITIES (RELAXATION POOL, OUTDOOR POOLS, AQUATONIC CIRCUIT, FITNESS ROOM, JACUZZI)
BIOLIGHT LUNCH ON REQUEST UPON RESERVATION (NOT INCLUDED)
OFFER AT 3000 MAD PER DAY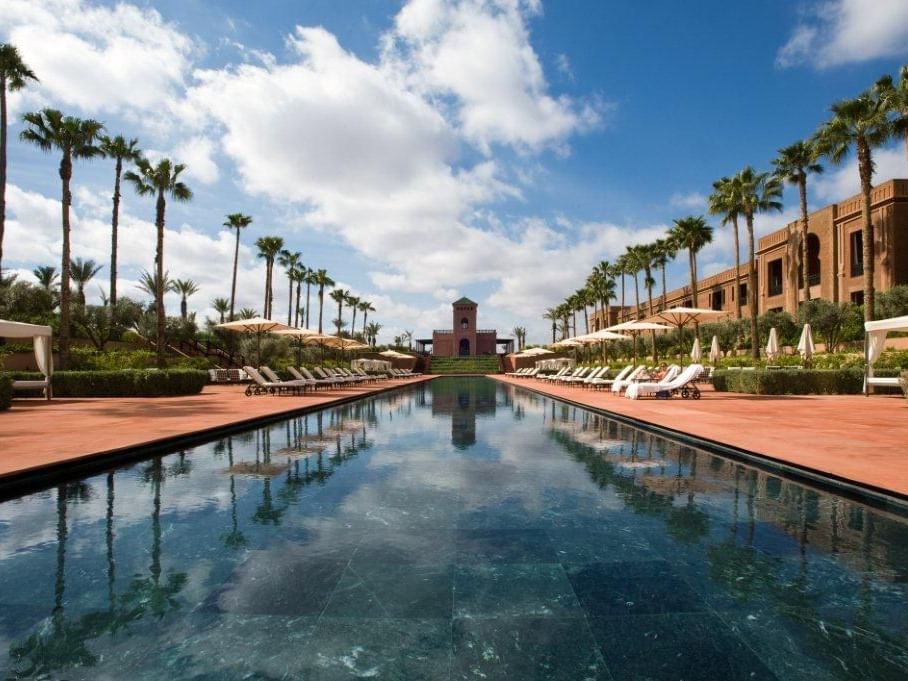 Chillin' Pass
ENJOY OUR CHILL'IN PASS IN THE LONGEST SWIMMING POOL OF MARRAKECH:
SWIMMING POOL ACCESS WITH DAY BED
LUNCH (STARTER, MAIN COURSE & DESSERT, EXCLUDING BEVERAGES)
COMPLIMENTARY ACCESS TO THE KIDS CLUB FOR CHILDREN BETWEEN 4 AND 12 YEAR OLD (BASED ON 1 CHILD PER PAYING ADULT)
OFFER AVAILABLE FROM MONDAY TO SATURDAY.
OFFER AT 1,250 MAD PER PERSON

, -50OFF FOR CHILDREN UNDER 12 YEARS OLD, UPON RESERVATION ONLY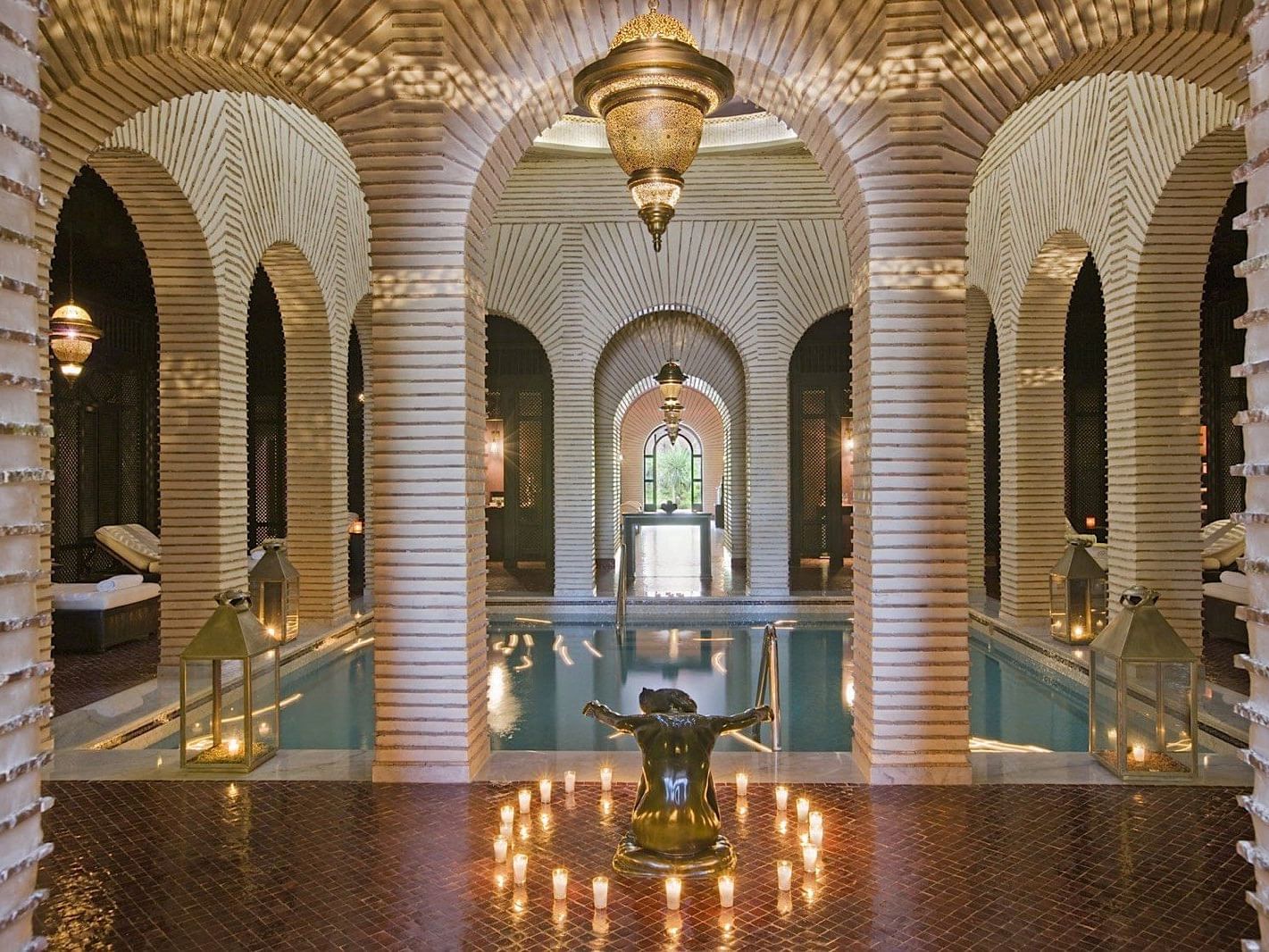 Chenot Wellness Day
TREAT YOURSELF TO A UNIQUE HALF-DAY EXPERIENCE WITH A:
MOROCCAN HAMMAM RITUAL
SIGNATURE CHENOT MASSAGE
LUNCH (STARTER/MAIN COURSE OR MAIN COURSE/DESSERT, EXCLUDING BEVERAGES)
FREE ACCESS TO ALL SPA FACILITIES (FITNESS, SWIMMING POOLS ...)
FREE ACCESS TO THE KIDS CLUB FOR THE CHILDREN FROM 4 TO 12 YEARS OLD
(BASED ON 1 CHILD PER PAYING ADULT)
SPECIAL OFFER AT 1800 MAD PER PERSON UPON RESERVATION ONLY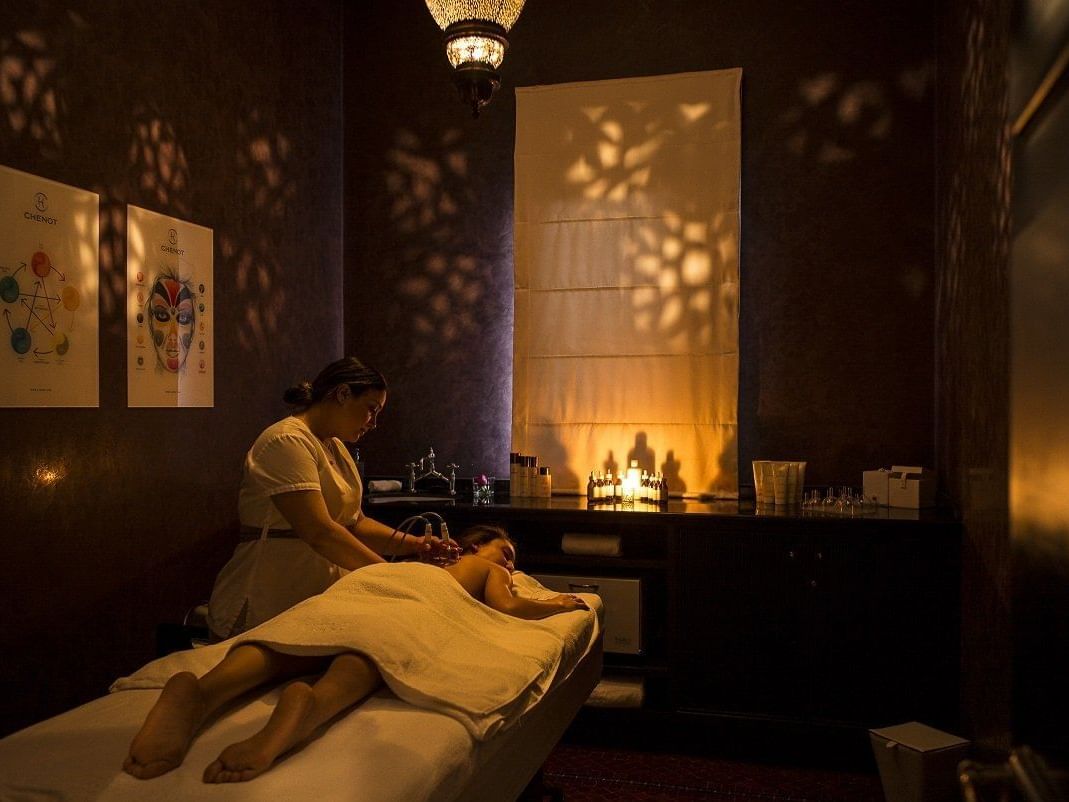 Mind & Body Therapy by Chenot
Treat your body and mind in our Spa Chenot, with our therapy intended to help one find inner harmony.
Round-trip airport transfer from Marrakech or Casablanca Airport
Free room upgrade upon availability on arrival
Accommodation including full board with Biolight menu
Hydro-aromatherapy treatment per day
Phyto-fangotherapy treatment per day
Hydrojet treatment per day
Detoxifying massage per day
Fitness session with personal coach
Starting from 10 050 MAD per person per night in a single room.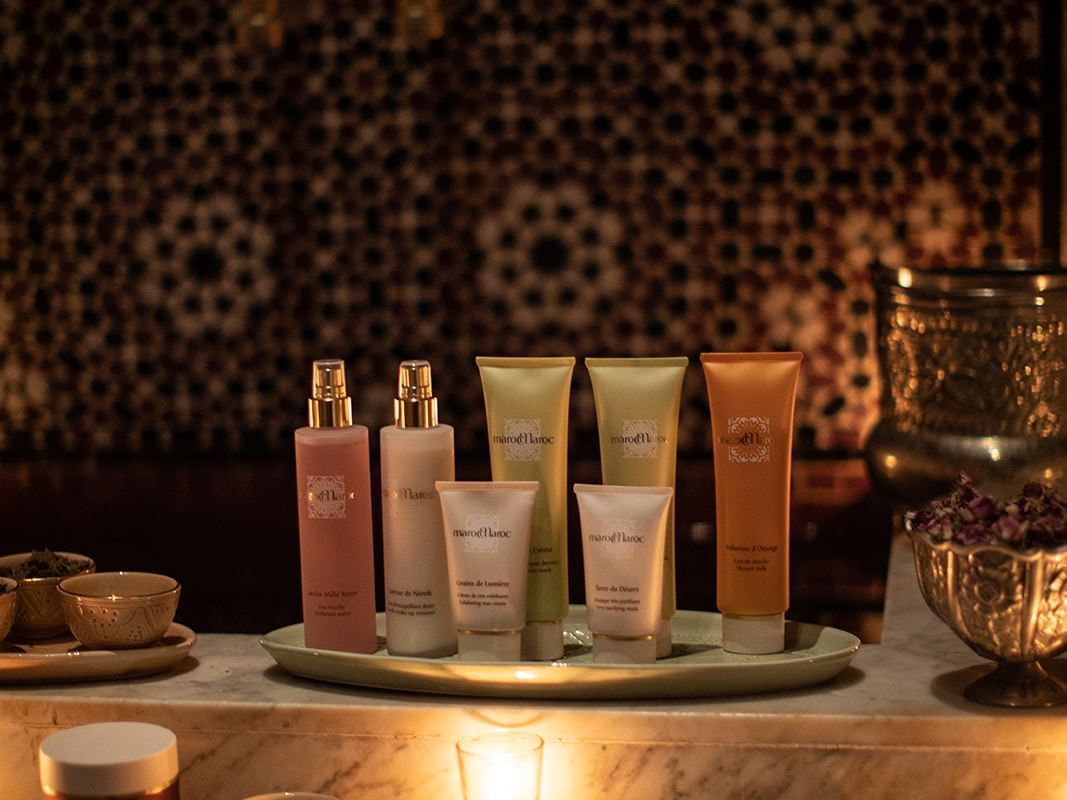 Hammam Escale Selman by marocMaroc
A SUBLIME MIXTURE OF GESTURES WITH A VERY PARTICULAR UNFOLDING
THE EXPERIENCE BEGINS WITH THE HAMMAM ESCALE SELMAN WHICH IS DONE USING A KESSA GLOVE ASSOCIATED TO THE GOURMET AMBER HONEY PASTE FOR AN ULTRA PURIFYING EXFOLIATION. THEN COMES THE SOAPING WITH THE SHOWER MILK ORANGE INFUSION OF ORANGE BLOSSOM.
AN ESCAPE OF ONE HOUR IN THE HEART OF TRADITIONAL GESTURES FOLLOWED BY 30 MINUTES OF HYDRATATION IN THE CABIN WITH THE WONDERFUL « ROSES DE SUCRE » CREAM.
DURATION : 1H30
OFFER AT 1500 MAD